Enterprise Suite
Web site QA and accessibility testing
Summary
Enterprise Suite is an easy to use on-premise web application that contains server based versions of the following applications:
SortSite for web site testing
PowerMapper for creating visual site maps
Server Platform: Windows 2008 R2 or later
Client Platform: any device with a web browser (Windows, Mac, Linux, Tablet)
Use: inside and outside firewall, including intranets and development sites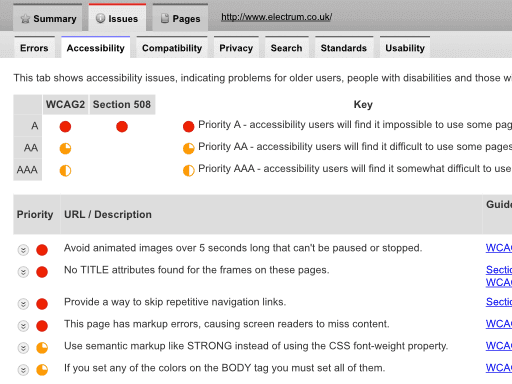 Web Site Testing
One click is all it takes to analyze an entire web site. Each page is checked against more than 1200 standards based checkpoints.
Visual Sitemaps
PowerMapper draws maps in a range of useful and attractive styles using thumbnails of each page. You can also export a Google XML sitemap, or an Excel CSV.
Share site maps with co-workers and clients when re-designing or auditing a site
Copy maps into client presentations and sale proposals
Exported to Excel for detailed analysis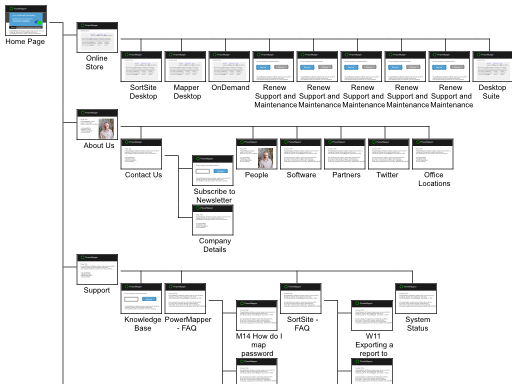 Datasheets
More documentation including datasheets, white papers, deployment guides, user guides and the license agreement are available in the technical resources section.
Most computers will open PDF documents automatically, but you may need to download Adobe Acrobat Reader.
System Requirements
System requirements for the Enterprise Suite are:
Can be used from a modern web browser on any device (Mac, PC, iPad, Android, Chromebook, Linux)
Server: Windows Server 2008 R2 or Windows Server 2012
Database: SQL Server 2008 R2 or later (any edition including Express)
The suite is also available as a desktop application.