OnDemand Suite
Web site testing and visual sitemaps
Summary
OnDemand Suite includes cloud versions of the following applications:
SortSite for web site testing
PowerMapper for creating visual site maps
Platforms: cloud, works on any device
Use: outside firewall, including public web sites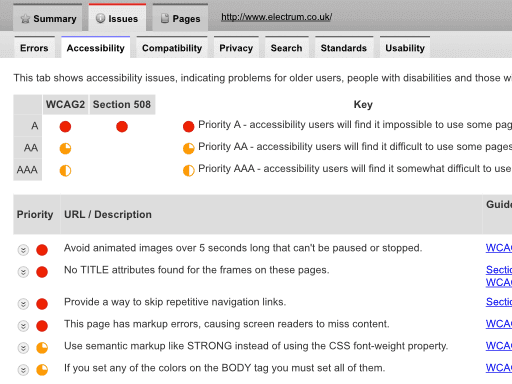 Web site testing
One click is all it takes to analyze an entire web site. Each page is checked against more than 1300 standards based checkpoints.
Visual sitemaps
PowerMapper draws maps in a range of useful and attractive styles using thumbnails of each page. You can also export a Google XML sitemap, or an Excel CSV.
Share site maps with co-workers and clients when re-designing or auditing a site
Copy maps into client presentations and sale proposals
Exported to Excel for detailed analysis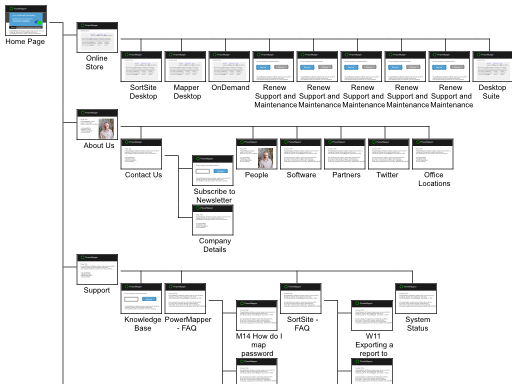 Benefits
Problems like broken links, spelling errors and usability problems drive visitors away from your site. Search engine issues stop visitors before they arrive. Find and fix website problems before your customers or executives find them.
Manual testing effort is proportional to the number of pages, so costs quickly add up, even on small sites:
At least 30 minutes to comprehensively test each page manually
Total Effort: 500 hours to fully test a 1,000 page site
Total Cost: $25,000 at $50 per hour
SortSite tests the same site in under 5 minutes for a small fraction of the cost of testing everything manually. This lets teams focus manual testing on areas that require human judgement.
Reviews and testimonials
Generating this kind of map of an existing site should be the first step anyone takes when redesigning a site. Steve Krug, Author "Don't Make Me Think"
This simple test ... gives much more useful data than just a screenshot. The "SortSite" test checks accessibility, broken links, browser code compatibility, search engine optimization and other usability issues...

practicalecommerce.com
Customers
Our products are used in more than 50 countries by some of the world's largest organizations. Over 30% of the Fortune 100 use our products.
Australian Department of Industry and Innovation
Canadian Space Agency
Disney
McCann Erickson
NASA
Singapore Health Sciences Authority
Toyota
UK Royal Mail
US Department of Justice
See it in action
Example reports produced by the OnDemand Suite, and free trials.
White papers and datasheets
Get in-depth technical information about OnDemand features, benefits, and capabilities.
More documentation including datasheets, white papers, deployment guides, user guides and the license agreement are available in the technical resources section.
Most computers will open PDF documents automatically, but you may need to download Adobe Acrobat Reader.
System requirements

System requirements for the OnDemand Suite are:
Runs in any modern web browser (Chrome, Firefox, Edge, Safari, Opera, Internet Explorer 11)
Runs on any device (Mac, PC, iPad, Android, Chromebook, Linux)
No installation required
The suite is also available as a desktop application.