PowerMapper - Benefits
PowerMapper is used in more than 50 countries, by 30% of the Fortune 100, and major organizations like NASA and MIT.
Create Site Maps Cost-Effectively
Creating a site map manually takes many days of effort, even for medium size sites. PowerMapper creates site maps automatically with a single click. Outline costs to manually create a site map are:
3 minutes per page to create and layout a box for each page in a drawing package then copy-and-paste the page title or url
Total Effort: 50 hours to create a map of a 1,000 page site (3 minutes x 1,000 pages)
Total Cost: $2,500 at $50 per hour (50 hours x $50)
PowerMapper can build a better site map in under 5 minutes for a small fraction of the cost.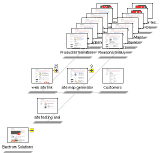 Share Maps with Others
Share site maps with colleagues and clients when re-designing or auditing a site. Export maps using standard formats like HTML, PNG, CSV and XML.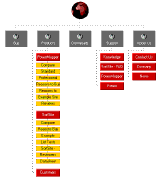 Search Engine Visibility
Export maps in Google XML sitemap format to improve the visibility of your pages to search engines, and make sure more of your pages appear in search engine results pages.
Use Maps in Other Applications
Maps can be copied and pasted into applications like Word and PowerPoint for sales presentations and proposals. Map data can also be exported to Excel or Google sitemap format.