News
Archived Content
2011
SortSite Accessibility Research Report (Jun 2011)
The Design for All Research Group at Middlesex University have produced a report on European web site accessibility using SortSite to screen sites for accessibility issues. The report asks the question "can website accessibility declarations be trusted?"
SortSite OnDemand (Mar 2011)
PowerMapper Software announce the launch of SortSite OnDemand, a subscription web application. The product can be used on any device with a standards compliant web browser, including Macintosh, Windows, Linux and iPad.
Partnership with Digital Accessibility Centre (Jan 2011)
The Digital Accessibility Centre (a non-profit social enterprise and leading provider of web accessibility services) is using SortSite as part of their accessibility testing services. PowerMapper Software is providing licenses and consultancy as part of their commitment to giving back to the community.
2010
New Offices (Sep 2010)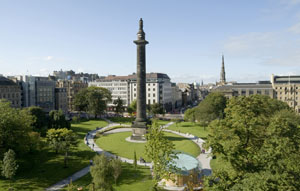 PowerMapper Software has just moved to new headquarters in the center of Edinburgh. The offices are wheelchair accessible, provide state of the art workspace for the team in Edinburgh, and have great views across the city.
The building has lots of options for expansion and provides a linchpin for our growing global operations.
Shaw Trust Using SortSite (Jul 2010)

Shaw Trust is introducing SortSite as part of their web accessibility services. PowerMapper Software is providing licenses and consultancy as part of their commitment to giving back to the community. Shaw Trust is a UK charity which supports disabled and disadvantaged people to prepare for work, find jobs and live more independently.
SortSite 4.0 Released (May 2010)

PowerMapper Software announces the general availability of SortSite 4.0. New features in this release include:
English and French spell checking
Accessibility and link checking inside PDF documents
Link checking inside Word, Excel and PowerPoint documents
Allow #anchor links to be blocked
Added Firefox 3.6 / Chrome 4.0 to compatibility report
Added support for <LINK REL="canonical" HREF="..." >
Added support for Lotus Domino
Added required text rules (for checking analytics tags and disclaimers are present on every page)
Added "Automatic Login" option
PowerMapper Software Hits 30% of Fortune 100 (Mar 2010)
Latest sales figures reveals that PowerMapper and SortSite are now used by 30% of the Fortune 100. This comes on the back of strong sales to organizations like Nokia, USDA and Oracle.
PowerMapper Software (Feb 2010)
PowerMapper Software has completed the acquisition of Electrum's PowerMapper and SortSite product business as part of a management buyout led by Mark Rogers, a former Electrum director.
Under the terms of the deal PowerMapper Software will provide the same responsive support and regular product updates for PowerMapper and SortSite that customers experienced under the Electrum Solutions brand. Electrum will continue to provide a wide range of document and reporting products and bespoke solutions to customers throughout Europe.
"PowerMapper Software is being launched today on the foundation of two strong product franchises in PowerMapper and SortSite with customers in 43 countries." said Mark Rogers, CEO of PowerMapper Software. "We have a proven management team, and experienced employees dedicated to building a world-class software business focused on customers' success."
2009
PowerMapper 5.0 Released (Dec 2009)

Electrum announce general availability of PowerMapper 5.0. New features in this release include:
Two new map styles
Import data from Google Analytics or Webmaster Tools
Overlay imported data onto site maps (mini graphs are drawn next to page thumbnails)
Add design notes to maps (use this when using the site map as a blueprint for site re-development)
Extract links from Flash navigation
Resizable page thumbnails
Support for non-European character sets including Russian, Japanese, Chinese and Korean
User interface improvements including customizable toolbars and new map wizard
Exporting meta data
Support for Windows 7
SortSite Certified for Vista (Jun 2009)
Electrum announce SortSite 3.03, which is Certified For Windows Vista. Certified for Vista applications are tested by independent labs to ensure they meet Microsoft compatibility and reliability guidelines.
"Microsoft is pleased that Electrum has earned the Certified for Windows Vista software logo for SortSite," said Brad Goldberg, General Manager for Windows Vista Product Management at Microsoft Corp. "By certifying their applications, Electrum is letting their customers know that their product has met explicit standards of reliability and quality, and has been tested and proven to deliver a superior experience with a PC running Windows Vista."
SortSite 3.01 Released (Feb 2009)
Electrum announce the availability of SortSite 3.01. The latest release contains a slew of new features including:
Over 50 new browser compatibility checks for Internet Explorer, Firefox, Safari, Opera and Google Chrome
Over 450 quality checkpoints
Checks for page weight (total size of HTML, graphics, script and CSS)
Dell Partners With Electrum (Jan 2009)
Dell | ASAP Software have become an authorized reseller for Electrum products. Dell | ASAP Software does business with clients around the world, with over 40 regional sales offices throughout North America and Europe.