Blog » Web Standards
As part of the online demo at try.powermapper.com we collect summary statistics about pages scanned by our service. One interesting statistic covers versions of HTML and XHTML in common use. As of September 2016:
HTML 5 DOCTYPEs account for around 75% of pages scanned (up from 0% in 2008)
XHTML 1.0 DOCTYPEs account for around 10% of pages scanned (down from 60% in 2008)
XHTML 1.1 DOCTYPEs have vanished, and account for 0% of pages scanned (down from 1% in 2009)
HTML 4.01 DOCTYPEs account for about 3% of pages scanned (down from 20% in 2008)
About 2% of pages scanned have no DOCTYPE (down from 15% in 2008)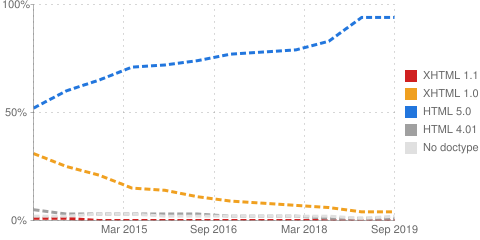 After 4 years of development HTML 5.0 finally exited draft status and became a W3 Candidate Recommendation on Dec 17, 2012. HTML 5 will now go through the final stages of the W3 standardization process before becoming a full Recommendation in 2014 (the final published standard). The only changes now to HTML 5.0 will be bug fixes, fixing typos and the possible removal of "at risk" features. New features will be added to the HTML 5.
This diagram shows how web standards have developed since 1994. Originally HTML and related standards were discussed and agreed by a small group of interested parties on a mailing list. Later the W3 was formed, and it put in place increasingly rigorous processes, with increasing amounts of public consultation. While solid process and consultation is a good thing, one striking point is how long it now takes to get W3 standards from Draft to Recommendation status.
The HTML 4.01 standard was introduced in 1999, but 11 years later, no major vendor fully implements it.
Controversial, perhaps, but also true. A lot of flak is rightly directed at Internet Explorer's lack of standards support, but the other browser vendors aren't blameless either. Here's a partial list of some HTML 4.01 features not supported in Chrome, Firefox, Internet Explorer or Opera.
October 14th is World Standards Day: this year's theme is making the world accessible for all, which we're passionate about (both personally and as a company). Over 650 million people globally are affected by some kind of disability, and one quarter of the world population is over 60, so accessible products and services have a huge audience. Remember, accessibility benefits everyone: Wheelchair ramps in buildings make them easier to get into with prams.
This blog has been pretty quiet for the last few weeks because we've been busy releasing an online version of SortSite.

This lets you take SortSite for a spin without having to install any software. We've also started collecting some interesting statistics:
In 2006 we converted our site from HTML 4.01 to XHTML 1.0. It seemed like it should be straightforward. After all, we reasoned, XHTML 1.0 is compatible with HTML so it should just be a case of changing the doctype from HTML to XHTML. Wrong.
There are a lot of good reasons for switching to XHTML, but there are some drawbacks as well. Imagine you're responsible for a major e-commerce web site, and you make the decision to migrate the entire site from HTML to XHTML, serving it to standards compliant browsers (like Firefox) using the W3C recommended MIME type application/xhtml+xml. A couple of months after the switch someone types <br> instead of <br/> when making a minor edit to the main site template.