New offices in Edinburgh
We've just moved to new offices in Edinburgh in the rather stunning St Andrew Square. We spent a long time choosing offices since they had to match quite strict sustainability criteria:
Easy access to public transport (the train station is 3 minutes walk, the bus station is the other side of the square, and the new tram system will run through the square)
Accessible to wheelchair and low vision users (quite hard to find in Edinburgh which is full of very old buildings that are hard to make accessible)
Energy efficient with recycling facilities (the office has recycling bins everywhere, with special bins for toner cartridges which go to a recycling charity)
Plenty of space for future expansion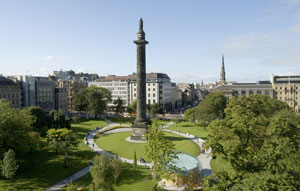 The new offices fit the bill perfectly, with the bonus of a great view across to Edinburgh Castle. The square itself is currently a hive of activity due to the Edinburgh Festival - Krakow Opera did an open air performance there yesterday.